CowGoMoo Web Solutions
CowGoMoo Web Solutions is a web solutions provider with several decades of experience in marketing and online dating going back to the early 2000s, who since 2014 have been using Dating Script for the majority of their niche market dating sites.
Currently, it has several sites utilizing Dating Script. Due to successful trials using DatingScript's platform is converting the rest in the near future. Below are just two of its niche market.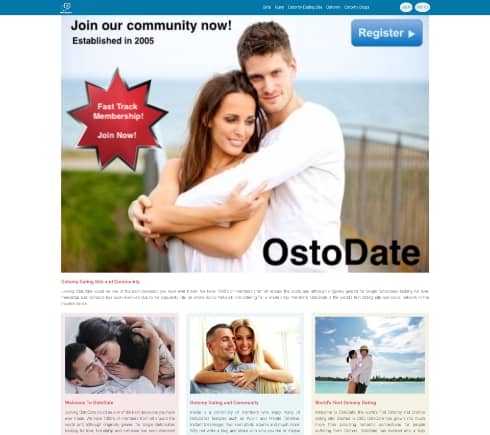 OstoDate
The world's first Ostomy and Crohn's dating site. Started in 2005 OstoDate has grown into much more than providing romantic connections for people suffering from Crohn's. OstoDate has evolved into a fully-featured social network.
Originally starting out as a web hosting and marketing company, CowGoMoo Web Solutions slowly transitioned into the online dating services industry. Fast forward a few years and they had developed many niche market dating sites but as server operating systems moved on, many of their platforms were becoming obsolete or non-functioning.
Operating various platforms during the early days ranging from several white label solutions to turn key solutions which served their purpose. However as time progressed, most of these solutions were left with software that was old, cranky and insecure with vulnerabilities such as "Global Variables". Along with the mobile phone boom, came a whole new problem. The majority of users were using mobile devices making a non responsive site more a burden than an asset with many users complaining about the incompatibility.
Solution – Enter Dating Script
Finding a new platform and fast was now a priority. After trying various options Dating Script seems to have won hands down. Migration was easy and handled by Dating Script, who migrated the original sites to the new Dating Script platform in a matter of hours with no interruptions to the original service.
Utilizing Dating Script was a welcome option due to its easily customizable templates, a growing array of plugins and it is easily integrated into third party applications and platforms, such as:
Arrow Chat
One Signal Push Service
Kraken and other image compression services
Although Dating Script's mobile application is currently under development, Dating Script more than adequately responsive and makes viewing it in any browser an attractive option with easy navigation.
Two notable observations when switching over to Dating Script:
Membership retention had increased by 65%
Search Engine ranking dropped initially but then has now increased to record levels.
Dating Script has provided an up-to-date platform that not only improved performance, loading times, and searches engine rankings due to its unique design but increased revenue and retention rates. It has also transformed sites from generic dating to an interactive social network increasing interactivity amongst its members year on year.
CowGoMoo Web Solutions Ltd confidently endorses Dating Script as its primary and most successful platform and looks forward to working with Dating Script for many years to come.