Dating Script has been at the forefront of the dating software industry for quite some time.
The websites made with Dating Script – Cupidon, Club Cross Dressing, Polydating, and many more have been running for a decade. That's why Dating Script is one of the Best PHP Dating Scripts in the dating software industry.
In this post, we are going to reveal to you the different ways that dating websites use to earn money.
Sit tight and learn how to make money with your dating website:
Paid registration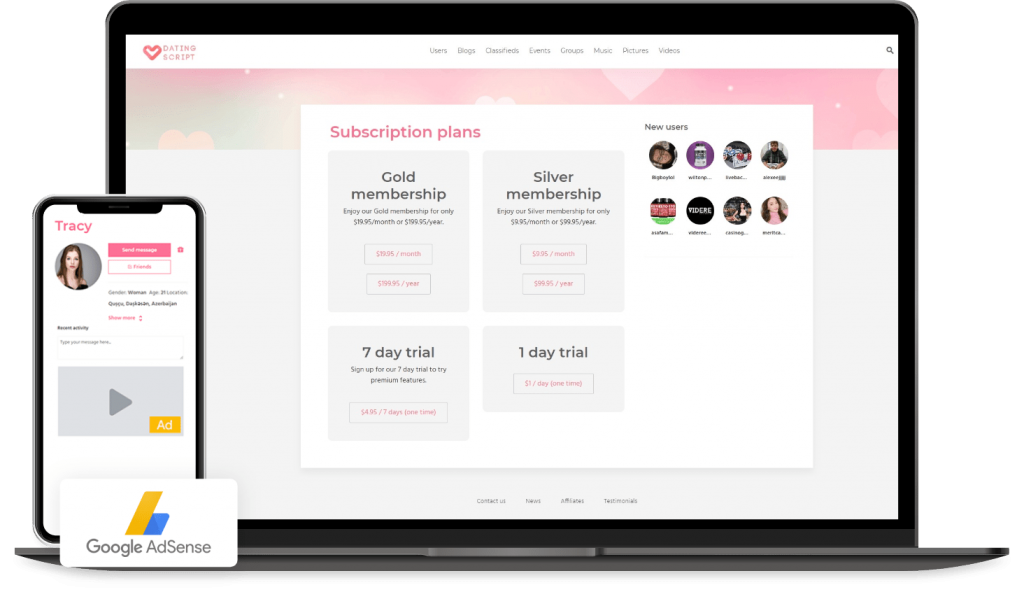 There's no compulsion to use a free registration modality for every dating website. When your dating website has reached a certain status, you can use paid registration modality.
Enable paid registration on the admin panel, set the price for registration, and see how it works for you.
Different custom plans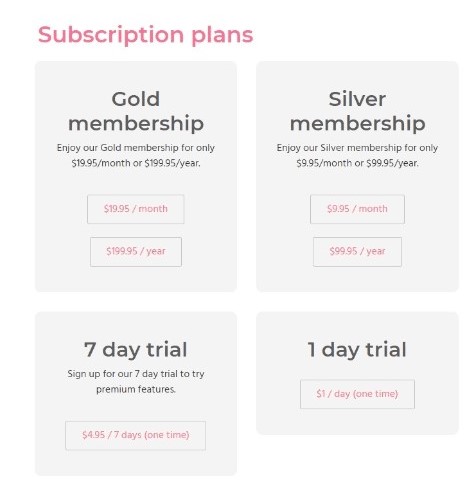 Create different user groups that will have different features and access. Along with that, you can create membership plans and assign them to specific user groups. Set the period of time, the price of the plan. You can also set the bonus credits.
It has been customized so that you can set different prices and periods for the same plan like yearly, monthly, half-yearly, or anything you like.
Credits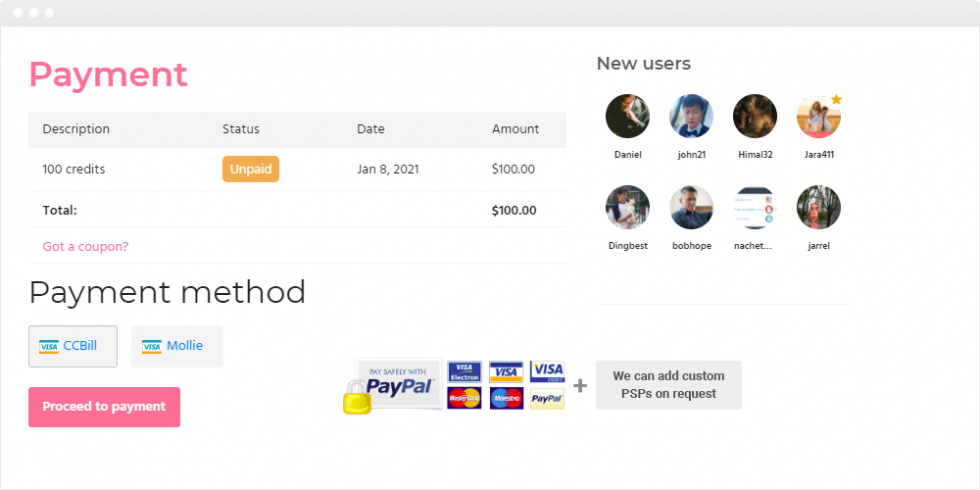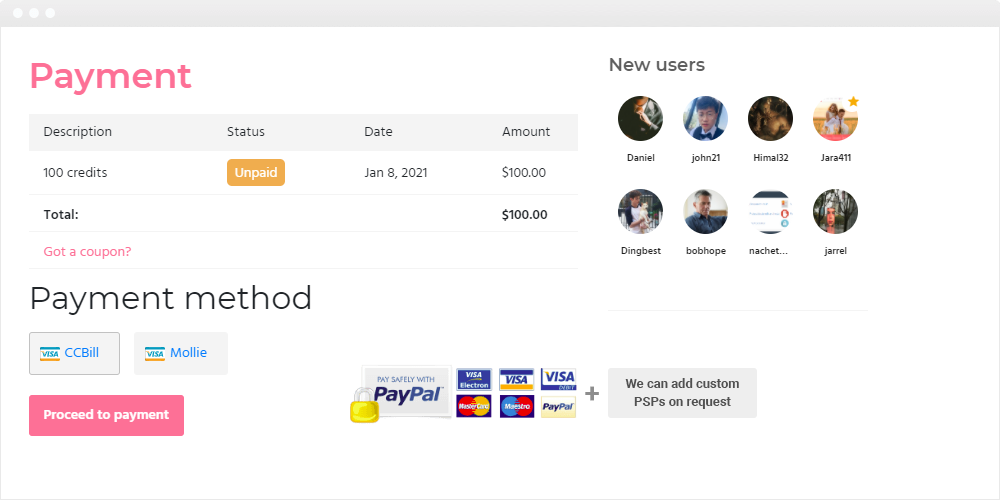 Use a credits system to engage your visitors and make in-app purchases. Through this system, users will purchase the credits and use them to send gifts and members.
Another way is to offer members to stand on the featured members list after making the payment a certain amount of credits.
Direct Ads
You can promote third-party services on your website and earn commission based on views/clicks. Our statistics system counts how many ads are displayed and how many times they are clicked. Advertisers can directly contact you if your website is established. Otherwise, you can approach your local advertisers to advertise their products on your site.
Google Adsense
Google offers an online advertisement program where you can enroll for free. Google displays targeted ads to the visitors and you will get a commission when the ads are clicked on your website.
Be an affiliate
There are many popular affiliate networks like Clickbank, ShareASale, CJ Affiliate, and many more where you can sign up for free and display ads of the merchants on your websites that you choose. You can display banners and links. A special tracking code is embedded in the link, and the clicks are tracked through those links. When the customer makes a purchase within the time period, you are given a commission. The time period varies between each merchant and their policy.
Be an advertiser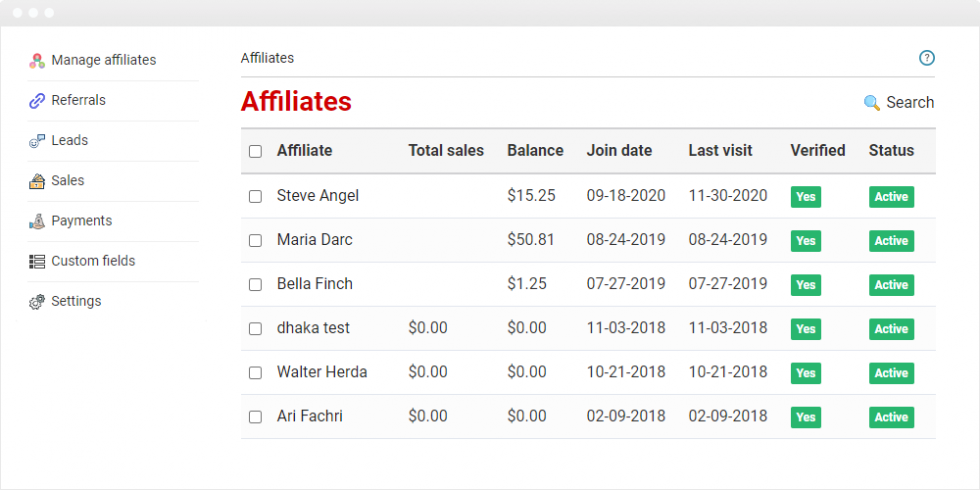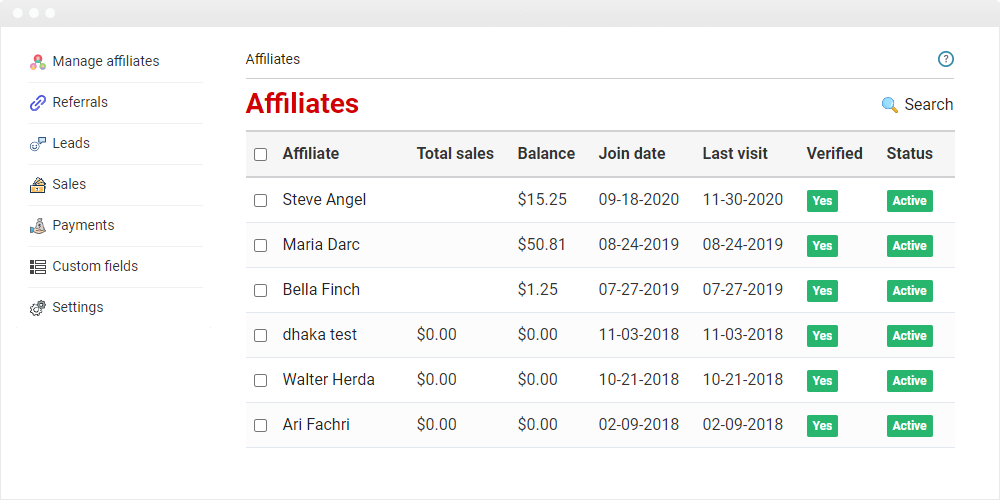 On the contrary, if you have made your website paid, you can also make partnerships with different affiliates and brands. They will direct visitors to your website, and when they upgrade their accounts, they will be paid a fixed commission on the sales.
Dating Script has an in-built affiliate system that helps you manage your affiliates. The system provides the affiliates special affiliate link, and affiliate dashboard, where the user can view their related statistics.
With an affiliate system, you can solely focus on your dating business while affiliates take care of the website visitors part.
▶️Our many customers have been running dating businesses for more than a decade. In this fleeting time period, running a successful dating website for such a long time is not a fluke.
Dating Script has lots of great features that will help you succeed in your dating business.
Use our Match Making Software and start earning money from your dating website today!
Explore how your dating website might look. DEMO ?